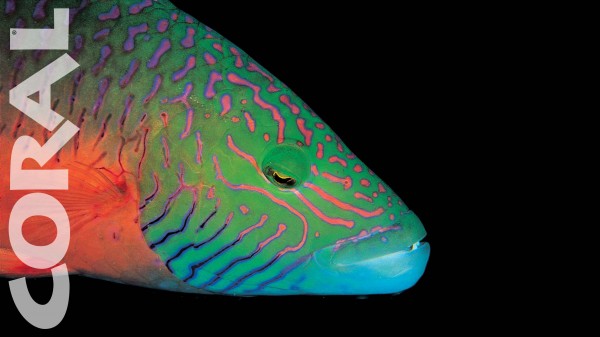 The world's premier reef & marine aquarium magazine
Founded in the year 2000 to bring together the writing, photography, findings and thoughts of the world's most-respected saltwater aquarists, marine scientists and reef biologists, CORAL Magazine has grown to become the most popular and longest-running reef and marine aquarium magazine.
CORAL provides wide-ranging, expert editorial coverage of reef fishes and invertebrates, aquarium system design and technology, explorations of wild reefs, profiles, interviews, and world-class color photography.

Lively, insightful, and on the cutting edge, CORAL is the definitive read in English for both home and professional aquarium keepers who are passionate about their systems and livestock and about keeping up with the latest information, products, and service.
CORAL is published under exclusive license to create and distribute an English-language version of the German KORALLE, which is edited by Daniel Knop and published by Matthias Schmidt, Natur und Tier Verlag GmbH, Muenster, Germany.
Masthead
EDITOR & PUBLISHER | James M. Lawrence
INTERNATIONAL PUBLISHER | Matthias Schmidt
INTERNATIONAL EDITOR | Daniel Knop
SENIOR ADVISORY BOARD | Dr. Gerald R. Allen, Dr. Andrew W. Bruckner, Dr. Bruce Carlson, J. Charles Delbeek, Dr. Sylvia Earle, Svein A. Fosså, Jay Hemdal, Sanjay Joshi, Martin A. Moe, Jr., Dr. John E. Randall, Julian Sprung, Dr. Rob Toonen, Jeffrey A. Turner, Joseph Yaiullo
SENIOR EDITORS | Scott W. Michael, Dr. Ronald L. Shimek, Michael J. Tuccinardi, Matt Pedersen
SENIOR CONTRIBUTORS |
Dr. Dieter Brockmann, Dr. Roy Caldwell, Dr. Chatham Callan, J. Charles Delbeek, Robert M. Fenner, Jay Hemdal, Alf Jacob Nilsen, Than Thein, John H. Tullock, Tim Wijgerde
PHOTOGRAPHERS |
Larry P. Tackett, Matthew L. Wittenrich, Vince Suh, Than Thein
TRANSLATOR | Stephan M. Tanner, Ph.D
ART DIRECTOR | Linda Provost
PRODUCTION MANAGER | Anne Linton Elston
ASSOCIATE EDITORS | Louise Watson, Alexander Bunten, Bayley R. Lawrence
EDITORIAL & BUSINESS OFFICES
Reef to Rainforest Media, LLC
140 Webster Road | PO Box 490
Shelburne, VT 05482
Tel: 802.985.9977
CUSTOMER SERVICE | Online CORAL Subscriber Services | customerservice@coralmagazineservice.com | (844)-204-5157 Toll Free M-F Business Hours US EST
SUBSCRIPTIONS | www.coralmagazine.com
WEB CONTENT | www.reef2rainforest.com
ADVERTISING SALES |
James Lawrence | 802.425.9977 Ext. 7
james.lawrence@reef2rainforest.com
BUSINESS OFFICE |
Judith Billard | 802.985.9977 Ext. 3
NEWSSTAND | Howard White & Associates
PRINTING | Dartmouth Printing | Hanover, NH
CORAL®, The Reef & Marine Aquarium Magazine (ISSN:1556-5769), is published bimonthly in January, March, May, July, September, and November by Reef to Rainforest Media, LLC, 140 Webster Road, PO Box 490, Shelburne, VT 05482. Periodicals postage paid at Shelburne, VT, and at additional entry offices. Subscription rates: U.S., $37 for one year. Canada, $49 for one year. Outside U.S. and Canada, $57 for one year.
POSTMASTER: Send address changes to: CORAL,
PO Box 361, Williamsport, PA 17703-0361
CORAL® is a licensed edition of KORALLE Germany,
ISSN:1556-5769
Natur und Tier Verlag GmbH | Muenster, Germany
All rights reserved. Reproduction of any material from this issue in whole or in part is strictly prohibited.
CREDIT
Cheek-lined Maori Wrasse (Cheilinus digramma)
Photo: Scott W. Michael
Wrasses & Parrotfishes, Reef Fishes Book 5
The World's Favorite Reef and Marine Aquarium Magazine... Subscribe Now
SIX BIG ISSUES A YEAR - BOTH IN LAVISH PRINT & DIGITAL EDITIONS
Tell me more
We make subscribing quick and easy, with FREE Shipping and a FULL Money-Back Guarantee. Get one full year with six big bimonthly issues for just $37 to US addresses. International subscriptions with Air Mail delivery are also available. One price includes the award-winning print edition and the FREE CORAL Digital Edition and access to a large Back Issue Archive.